Embark on idyllic and varied destinations.
Air Calédonie
More than 17,000 km away from Paris and in the heart of the Pacific, New Caledonia seduces with the beauty and diversity of the landscapes, a rich cultural heritage, a multi-ethnic and mixed population, and a range of activities. This paradisiac territory will delight all travelers in search of authenticity, from North to South, from East to West, without forgetting the islands.
Air Calédonie is the airline that provides connections to the Islands and the North of the mainland. It therefore offers, from Magenta-Noumea Airport, 5 of the most attractive destinations; the Loyalty Islands (Maré, Lifou, Ouvéa), the Isle of Pines, the North Province (Koné).
Destinations
Isle of Pines
Located 60 km off the Big island, the isle of pines proudly displays its title of the « Pacific Pearl » : its turquoise bays and white-sand beaches place the destination as a Must Go in New Caledonia.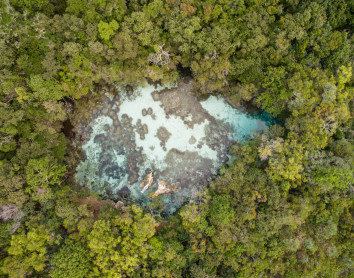 Loyalty Islands
West from Big island, at a short 40 minutes flight, the Loyalty Islands Province offers paradisiac destinations : Lifou, Ouvéa and Mare ! Three gems to explore ! Hardest part will be to decide which one to discover first ! Lifou, the island of many faces ; Mare, the island that speaks to your heart or Ouvéa, the closest to paradise.
Koné
Administrative capital of the North Province, Kone will be your starting point on the Big Island discovery. From Kone you can access various walks and treks in the mountain chain along the rivers, capture mesmerising landscapes and share  authentic moments among tribes.