The service
In partnership with Europ Assistance, Aircalin offers you a multi-risk travel insurance solution: a comprehensive coverage to satisfy all the requirements of leisure and/or business travelers residing in New Caledonia, French Polynesia or France. This multi-risk coverage covers worldwide travel for a period of less than 90 days.
For all illnesses, you are covered by your insurance (see conditions).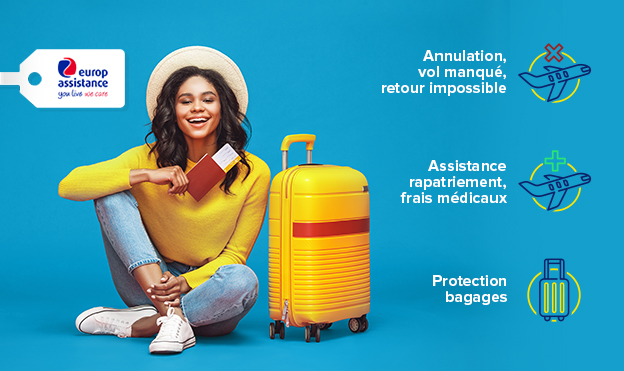 THE ADVANTAGES OF THE EUROP ASSISTANCE MULTI-RISK PRODUCT
Key points of assistance service
Comfortable sums to cover your costs notably for supplementary reimbursements of overseas medical costs
A wide range of services (extension of holiday, taxi fares…)
Coverage for all sporting activities (excepting competitions)
Many cases covered for early return (accident at home, hospitalisation of a professional replacement, a terrorist attack or natural disaster within 100 km of your destination…)
All the professional experience of EUROP ASSISTANCE at the service of your clients (since 1963, medical experts available  24/7, ISO 9001 certification, crisis management experience…).
Key points of insurance coverage
Missed flight (contribution to the purchase of a new ticket of up to 80% of the price of the initial ticket impossible departure or return
Theft of sports equipment during the holiday covered as losses of expensive goods, for up to €1,000 per person insured (excluding fishing rods) 
Delayed baggage delivery > 24h (purchase of basic goods for up to 29.833 xpf /€250)
Coverage of cost of reissue of identification documents in case of loss or theft (17.900 xpf /€150)
Limited franchise
Prices and subscription
A comprehensive insurance service at an attractive price
| AVERAGE TOTAL TICKET PRICES FOR THE BOOKING IN XPF, TAX INC. | OPTIONAL MULTI-RISK SUBSCRIPTION IN XPF, TAX INC PER PASSENGER. |
| --- | --- |
| 0 to 200,000 | 6,900 |
| 200,001 to 477,000 | 11,500 |
| 477,001 to 835,000 | 16,100 |
How to suscribe ?
On our website or when booking with your Aircalin agencies, when you buy a ticket . If your flight is eligible, this insurance will be automatically offered when you buy your ticket online. For online sales only, you can buy your travel insurance up to 48h after your ticket purchase in "My Booking" section.
What to do in case of... ?
1. Need of assistance
In case of medical emergency, you must contact the local emergency services, then
Contact EUROP ASSISTANCE 24/7 at + 33 1 41 85 86 51
Warning! Only services provided by (or with the agremeent of)  EUROP ASSISTANCE will be covered.
2. Making a claim
In case of cancellation of your flight, your must first
notify AIRCALIN
then in the 5 days following the incident preventing you from taking your flight make the claim online on the website
For all other plans, notify
EUROP ASSISTANCE within 2 consective working days of the accident or incident.
The conditions
TERMS FOR THE SUBSCRIPTION TO THE CONTRACT
Subscription with the purchase of the aircraft ticket
Subscription offered only for return flights
Maximum duration of the holiday covered => 90 consective days
Coverage of leisure or business journeys throughout the world (excepting war zones, etc.)
The insured persons must live in New Caledonia, French Polynesia or in mainland France.
TERMS FOR THE MODIFICATION OF THE CONTRACT
The insurance contract can be changed but not reimbursed (except for a multi-insurance cancellation clause activated within 14 days and online sales)
The change is linked to the change in the aircraft ticket (change accepted by the Company)