At airport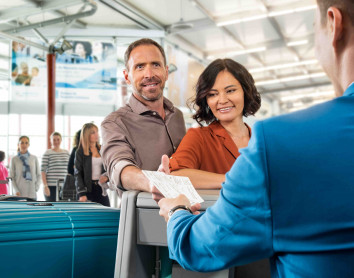 Embark at your leisure
Take advantage of a priority lane
As a Premium Economy passenger you have access to our dedicated check-in counters. You are free to board the aircraft at you own convenience and are the first to exit the aircraft. You are entitled to 2 pieces of checked luggage at 23kg (or a maximum of 30kg on flights operated from/to Wallis, Port Vila and Nadi). Your luggage will be amongst the first delivered to the baggage claim area. Our loyalty program members 'Flying Blue' can earn miles and enjoy their rewards faster.
Airport services and facilities
Services and facilities at the Airport* will make your experience pleasant and convenient.
Currency Exchange desk Banking services (ATMs)
Transport (taxi, shuttle, rental cars)
Telephones (use phone-card)
Mail services (you can purchase phone cards, mobile recharge, envelopes and stamps)
Free Internet access - Wi-Fi in the airport terminal*
*except the airport of Wallis & Futuna and Port -Vila
Comfort and entertainment
A class designed for your comfort
A haven of peace
Discover our Premium Economy class featuring all the latest innovations of the Airbus Airspace design package. Enjoy your private space with only 2 or 4 rows* in the cabin, located at the front of the aircraft. The cabin features lighting adapted to each phase of the flight. You will experience a superior level of on-board service, with champagne offered as an aperitif, and dedicated meals and drinks. On Long-Haul flights, take advantage of comfort features such as a comfort kit, a bottle of mineral water, a large pillow and a soft blanket. For more information, see the cabin map.
* Except flights from / to Port-Vila without Premium Economy class
Showcasing our flora
The Premium Economy class cabin on the A320 Neo reflects the natural attributes and beauty of New Caledonia - It's Flora. The design of the cabin is inspired by New Caledonia's nature and its exceptional diversity, including the Philodendron, a plant commonly found in New Caledonia. Also featured is the New Caledonia Pine  - a distinctive narrow tree with a slender, spire-like crown. The Pine is iconic and associated with numerous tourist sites such as the Isles of Pines.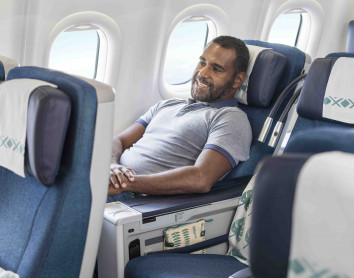 Enjoy more comfort and superior features
On all our flights, the Premium Economy seat offers numerous features to guarantee an enjoyable trip: a personal on-demand entertainment system with the latest generation HD LED touch screen,  a multi-way adjustable headrest, a USB charging point, and a headphone jack for your own headphones...
On our  A330neo operated flights, in addition to its wide base, the Premium Economy seat also offers generous legroom (up to 96cm), a comfort foam seat , generous 32° recline and  a 110 volts plug,  ensuring a restful and relaxing flight.  
On our A320neo regional flights,  you will benefit from a free seat next to you. The Premium Economy seats are located in front of the aircraft and are isolated of the rest of the cabin by a curtain for peace and comfort.
360° Video
Premium Economy long haul, A330neo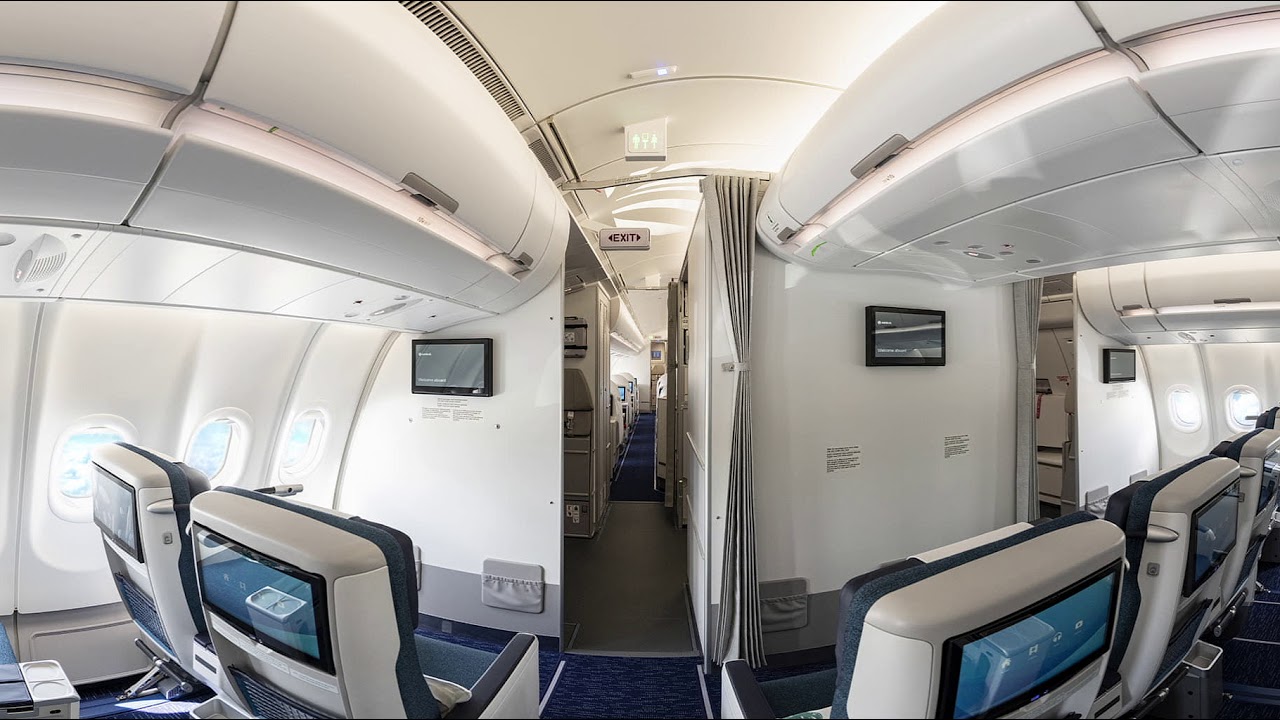 The fleet
Caledonian inspiration

AIRBUS A330 NEO (F-ONEO and F-ONET)
291 seats including 26 in Hibiscus class
Commercial flight capability: 12h / 12 000 km
➜ Discover (Ajouter lien)

AIRBUS A320 NEO (F-OTIB)
A maximum of 168 seats
Commercial flight capability: 7h30 / 6 300 km
➜ Discover (Ajouter lien)
4 reasons to travel together

Caledonian way to travel

Innovative fleet and reduced environmental footprint

More than 100 destinations and 60 airline partnerships

Safety and compliance