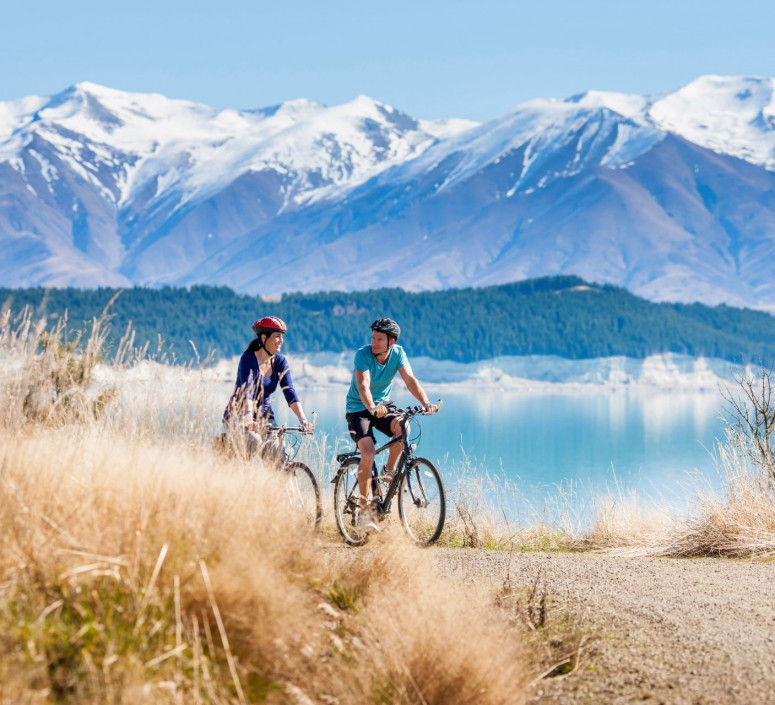 Travel to New Zealand, the land of the long white cloud
Magnificent landscapes, preserved nature, isolated beaches, famous vineyards, refined cities, friendly, welcoming people. New Zealand is a generous tourist destination which accumulates excellence. Escape to an extraordinary country.
Discover the natural and cultural riches of New Zealand.
New Zealand is a country that dazzles with its natural and cultural riches. Succumb to its unique world charm and magnetic scenery without delay.
The North Island is home to the capital city of Wellington, with its colorful rooftop homes, and the growing economic center of Auckland, an attractive city full of beautiful parks with sacred volcanoes, enchanting crystal-clear lakes, and unique subtropical forests that can be explored on foot, mountain bike or horseback. Do not hesitate to venture into the most beautiful regions of this extraordinary island.
The South Island offers the most beautiful assets of nature, with high snow-capped peaks with their breathtaking,  mostly accessible glaciers, neighboring endless gorges, lakes and huge plains where it is pleasant to camp. Go to New Zealand for a road trip and visit the most beautiful places of the country.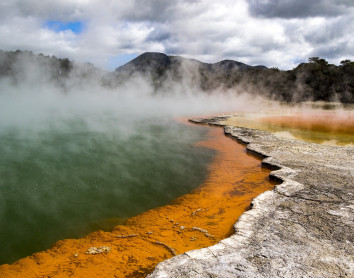 Places to visit in New Zealand
Take advantage of your stay in New Zealand to visit the must-see places that make the island so charming.
The Rotorua Baths
A geothermal mecca, Rotorua is a paradise of bubbling mud pools, mineral hot springs and geysers. You can enjoy them in pleasant resorts and spas without ever getting bored. The city has thought of everything and many parks and Maori villages will brighten up your stay there.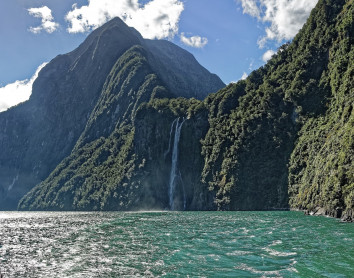 The Fiords of Milford Sound
Located on the west coast of New Zealand's South Island, Milford Sound is a cluster of nature. Sculpted by glaciers, this area is breathtaking in any season. Just imagine. Cliffs rising vertically and sinking into the dark waters. Mountains with peaks resembling skyscrapers.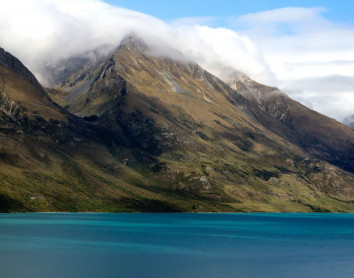 The New Zealand Alps: the New Zealand of ice
A trip to the heart of the New Zealand Alps is a journey you'll never forget. Between Greymouth and the glaciers, take in the landscapes like no other. Start your trip with an unusual crossing that will give you a taste of the glacier adventures. Take a 4.5 hrs train trip from Christchurch to Greymouth on  the TranzAlpine.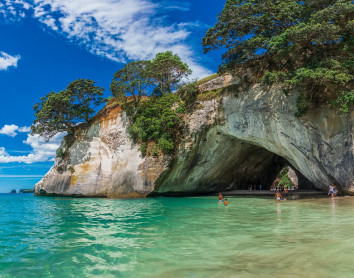 Te Whanganui-A-Hei Reserve - Cathedral Cove
On the east coast of the Coromandel Peninsula, about a 2.5 hour drive from Auckland, is Cathedral Cove beach in the Te Whanganui-A-Hei Marine Reserve whose Maori name refers to an ancestral icon. The name Cathedral Cove comes from its unique arch. It was one of the settings for the movie Narnia, which contributed to its international reputation.
This area is particularly appreciated by divers who find the most beautiful spots for snorkeling or underwater excursions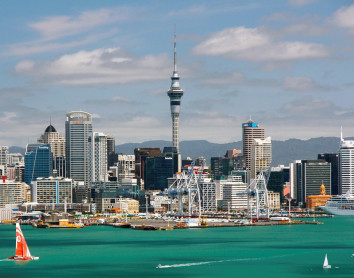 Visiting the cities of New Zealand
Traveling around New Zealand also means immersing yourself in the urban landscape offered by the country's largest cities. 
Visit Auckland
Auckland, the "City of Sails", New Zealand's city that vibrates to the sound of the Haka and the All Blacks culture! Between the lively waterfront, the heavenly beaches and the vineyards surrounding the city, you will find something to satisfy your desire for a change of scenery. 
Visit Christchurch
Located on the east coast of the South Island, Christchurch is a multi-faceted city that surprises with its quaint charm that is in harmony with an ever-reinvented modernity. Explore the so-called "Garden City" through Hagley Park and the city's botanical garden. Head out of town and climb the nearby Port Hills for a breathtaking view of the city. Stroll down picturesque New Regent Street and its colonial style before stopping at one of the many coffee shops here.
Visiting Queenstown
Queenstown remains one of the most visited cities in New Zealand, and for a good reason! Perched between the Remarkable Mountains and Lake Wakatipu, it entices thousands of tourists every year to experience the place that was the setting for Lord of the Rings. A city of adventure, it is an excellent choice for people who wish to indulge in multiple sporting activities: skiing, mountain biking, hiking or water sports: you will inevitably find something to suit your needs! 
Visit Wellington
New Zealand's capital city is Wellington, a must-see stop on your trip for both its cultural richness and its verdant environment. There's a reason why it's regularly on the podium of cities with the best quality of life in the world. Explore the city's botanical gardens or learn about the history of New Zealand's endemic species in the Zealandia Reserve. Stroll the city streets and pass through the bustling Cuba Street and finish with a cable car ride.
Practical information
Coming to New Zealand
Entry requirements in New Zealand:
Need information about entry requirements to New Zealand?
Check the link below:
New Zealand map
How to get to New Zealand
Flying to New Zealand from Noumea
It is easy to get to New Zealand from Noumea, check out our Noumea to Auckland page.
Average flight time 
It takes approx 3 hours and 17 minutes direct from Noumea to Auckland. This travel time may vary depending on your route. 
Time difference 
It is 2 hours later in Auckland, New Zealand than in Noumea, New Caledonia.
When to visit New Zealand
When is the best time to visit New Zealand?
Depending on what you want to do in New Zealand, the best times to visit are: 
December to March: Warmest period, you can visit the islands under temperatures around 22°C

June to September: This period offers snow on various mountain peaks of the islands for the winter sports enthusiasts.
4 reasons to travel together

Caledonian way to travel

Innovative fleet and reduced environmental footprint

More than 100 destinations and 60 airline partnerships

Safety and compliance