Update: June 22, 2022
We are currently receiving a large number of requests for your next trips and our response time is consequently extended. We thank you for your understanding.
The situation in Ukraine also leads to changes in the program of our company and its partners. Aircalin has implemented exceptional commercial measures on its entire network and offers you more flexibility. 
If your flights were booked through a travel agency or a third-party website, please contact your point of sale directly for more information.
For all Aircalin tickets (ticket number beginning with 063) purchased at one of the company's sales outlets or distributors, here are the updated conditions:
Commercial measures
Modification or cancellation of existing tickets
A. Voluntary cancellation or postponement of your reservation 
I waive my right to travel and wish to:
1. A modification
A modification of my travel dates remains possible according to the fare rules of the contract.
2. A refund 
My ticket is refunded immediately and any penalties are those of the initial fare contract. A la carte services" remain non-refundable.
B. Involuntary cancellation 
In case of flight cancellation by Aircalin, the following options are available to you
change of dates without charge OR (via the refund form available here) or via your travel agency if the ticket was not issued by the Aircalin Agency
free and immediate refund
Please note that in the case of denied boarding due to non-compliance with the rules of entry into the destination country (lack of visa, government health authorization, etc.), the fare rules for the ticket purchased will apply in the case of a deferral or refund.
Tickets purchased through a travel agency
If you purchased your ticket through a travel agency or tour operator, regardless of the option you chose, please contact your point of sale, which will process your request for a change or refund. 
Modification or cancellation of tickets affected by 2020-2021 international flight suspension
Refers to flights cancelled by Aircalin or inability to reach destination between June 1, 2020 and November 30, 2021 due to the Covid-19 measures and the suspension of international flights.
You may reschedule travel dates until December 31, 2022 without a modification fee with fare readjustment.
What should I do?
To postpone your travel dates, you must contact the point of sale where you purchased your ticket.
To benefit from your credit, simply keep your ticket number which can be reused at your point of sale during your next reservation, or be reimbursed at the end of its validity.
Refunds
You have a credit note or an Aircalin Eticket, file a refund file online refund file online
Refund
You may request a refund of the value of your ticket or credit note. Your refund will be processed according to the fare conditions and will be credited to your account as soon as possible.
Conditions
Tickets purchased through a travel agency
If you purchased your ticket in a travel agency or through a tour operator, please contact your point of sale, which will process your request for modification or refund.
Modalities
The applicant must have the proof of purchase (electronic ticket receipt or EMD passenger receipt) and indicate the document number and the associated name. The applicant must be able to provide proof of identity by presenting his/her passport. In the case of a group tariff, the original payer of the group will be contacted to verify their agreement.
The applicant will receive a transfer corresponding to the remaining amount that he/she initially paid in cash, cheque or credit card.
The credit on the applicant's account provides for a period of a few days, which varies according to the banks involved.
The applicant must provide for reimbursement either:
His/Her IBAN details for French banks based in a French territory
His/Her bank details for other banks
See the IBAN/International bank transfer section for more details.
Guide
This guide offers help in using the application form.
CAUTION: Do not forget to enclose a copy of your passport, which is the only form of identification accepted. 
Ticket and document to provide
You can find your document number and the name of the passenger as it appears in your documents:
At the top of your e-ticket, as below

At the top of your passenger receipt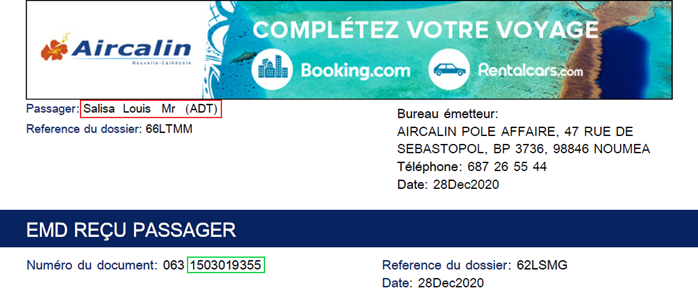 Inputs tips
Remember to attach your receipt for each reference. If there are several document numbers on the same attachment (e.g. due to the purchase of an à la carte service [comfort seat, special meals, additional luggage...]), please copy the same attachment for each reference.
The confirmation email is not an accepted attachment. The passenger's name and the 10-digit document number must appear.
The first 3 digits before your document number must be '063' and it is not necessary to enter it. If not, this document belongs to another airline. Please contact your sales office.
Remember to enter your IBAN or bank details (international banks). They will be mandatory information to fill in the fields. Do not forget to attach your bank details.
For foreign accounts US, AU, NZ, FJ, etc.: Do not enter the letters ABA, BSB and ACC but only the numbers separated by a blank.

For rejected transactions, the Company reserves the right to deduct the bank charges incurred from the amount refunded.